October 6, 2004

Re: Veep Debate
Posted by Paul Chesser at 11:47 PM
Jeff, to answer your question:

Two nights later, on MSNBC's "Hardball: The Horserace," correspondent Ron Allen also asked Edwards about debate preparation and negotiations.

"There was a debate about sitting or standing," Allen said. "You wanted to sit, or you wanted to stand?"

"I wanted to stand," Edwards said. "We are going to be sitting. He got everything he wanted, basically, in the negotiation."
Last Word on Veep Battle '04
Posted by Jeff A. Taylor at 6:46 PM
Pardon if this was mentioned somewhere before, but I sure missed it.

Cheney had a huge advantage built into the set. The sit-down format is exactly what the weekend talking head shows that Cheney has haunted the past few years require of guests. Cheney has clearly mastered that setting, sparring with Tim Russert and others.

Edwards, in contrast, is used to working on his feet in front of a jury. He tried to adapt his emotive hand-gestures to the debate format, but it just did not work, particularly his flabby close.

Don't know how the format was selected, but if the Kerry crew thought that putting Edwards in close proximity to Cheney at a table would draw out some sort of favorable contrast -- they were wrong.
Power to the people, really
Posted by John Hood at 2:38 PM
Jeff Taylor discusses how new technologies are putting the power of information in the hands of citizens — and the implications of this trend for local government — over at our JLF-Charlotte site.
Euphemism watch: "dumpster connoisseurs"
Posted by Jon Sanders at 2:36 PM
That is the term used in this "news story" on chapelhill.indymedia.org (brought to you by the University of North Carolina at Chapel Hill's Journalism Dept. because commercialism's ruined reporting) to describe people who rut through dumpsters.

While you're at the site, you can peruse recent "news" entries to read about "Our Heroic Baby-Killing Military", indymedia's solidarity with Palestinian terror and the new leftist anti-Semitism, plus more on their "news" fascination with the Bush/Nazi connection (here and here).
Online campaigning is "still in its infancy"
Posted by John Hood at 12:43 AM
That's the opinion of GOP consultant Dee Stewart, one of several candidates and activists quoted in this Rocky Mount Telegram article on the use of the Internet in 2004 political campaigns.
Meanwhile, along the Axis of Evil ...
Posted by Hal Young at 12:20 AM
Tony Blankley considers the question of how Presidents Bush and/or Kerry plan to deal with a nuclear Iran, or better yet, North Korea:

Last Friday, the Associated Press reported that: "Amid heightened concerns of a North Korean missile test, a U.S. destroyer has started patrolling the Sea of Japan in what officials say is a first step toward creating a shield to protect the United States and its allies from a foreign missile attack."

North Korea responded to the news by asserting that "The U.S. should clearly understand that a preemptive attack is not its monopoly."

Well, that sure sounds like an invitation to diplomacy, doesn't it, Senator Kerry?

So, if diplomacy fails, what will the president of the United States do about it in 2005?

Stay tuned, we're going to hear from somebody ... eventually.
Electric romance
Posted by Hal Young at 12:17 AM
This just in from the storm restoration front in Florida. The St. Petersburg Times Tampa Bay edition reports on an Ohio utility worker whose repair assignment in Florida threatened to postpone his wedding --

"Power restoration work takes a bow to wedding vows:
An Ohio man restoring power in Pinellas flies his fiancee down for a wedding walk down an asphalt aisle.":

The bride, Staci Harrison, walked down an aisle lined with orange plastic cones. She carried a bouquet of hand-picked flowers, held together with electrician's tape.

The two exchanged vows beneath two utility trucks with their buckets raised together to form a heart shape. The crew chipped in for a notary and for a wedding gift certificate from Sears. ...

"It's just unbelievable," said Staci Gibeaut, 33, who cleans houses. "Men aren't too inspired to do things like that, and I was very impressed that they all pulled that off."

Did Cheney "flip-flop" on Iranian sanctions?
Posted by Dr. Roy Cordato at 11:30 AM
Last night Dick Cheney was criticized for "flip-flopping" with regards to his position on Iranian sanctions. Apparently he was against the sanctions as CEO of Halliburton but in favor of the sanctions as Vice President. But in reality there is no reason to expect that he or any other person would hold the same view when serving in these very different roles. As a CEO your first responsibility is to your shareholders, as Vice President your first responsibility is to the voters and to the advancement of a particular policy agenda. There is no reason to expect these interests to coincide. If the absence of sanctions was in the interest of Halliburton when he was CEO he had an obligation to shareholders to advocate this position. If, when he is Vice President sanctions are in the interest of advancing the administration's foreign policy then his obligations to the country is to favor the sanctions. It is actually a testament to Cheney that he understands this distinction and can act accordingly. There is no question that John Edwards understands it. Indeed lawyers are expected to serve their client and to take different positions depending on who the client is. In fact, for lawyers this is considered to be a virtue.
A thought on Edwards & Cheney
Posted by John Hood at 11:15 AM
I've seen several commentaries and blogs today that attack John Edwards or Dick Cheney on the basis of how they communicate. Generally, the writer doesn't like it because he or she prefers a different style. For example, lots of Republicans and conservatives are attacking Edwards for his final remarks that told a story about how his dad was learning math at home to get a better job and "that made me proud." Too emotional, they say, not substantive. On the other hand, some Dems and libs are attacking Cheney for the reverse problem of being too matter-of-fact and not offering a more personal side of himself.

Here's my point: people communicate differently. It is silly to attack Edwards seeking an emotional connection with viewers just because you prefer details and philosophical argument. I do too, actually, but plenty of voters do not. You have to communicate the way they prefer, not the way you prefer, and you have to offer different kinds of information (verbal and visual) to maximize your persuasion of a diverse audience.

Of course, I'm thinking a lot about these issues because of my book project, Selling the Dream: Why Advertising is Good Business, which is about 2/3 finished, by the way.
All-American School Teachers
Posted by Paul Chesser at 10:52 AM
The South Carolina Senate race, where the core issue had been free trade, drew attention for Republican candidate Jim DeMint's stance on homosexual public school teachers:

Some gay organizations want an apology from U.S. Senate candidate Jim DeMint, who said during a debate that homosexuals should not be teaching in the state's public schools.

"I don't think they should," DeMint said during Sunday's debate with Democrat Inez Tenenbaum.

The third-term congressman said government should not endorse particular behaviors. "We need the folks that are teaching in schools to represent our values."

DeMint subsequently explained, "I would have given the same answer when asked if a single woman, who was pregnant and living with her boyfriend, should be hired to teach my third-grade children. I just think the moral decisions are different with a teacher."

Tenenbaum, in the Sunday debate, called DeMint's remarks "un-American."

Of course, we know who the real Americans are.


Re: Whoop, Whoop
Posted by Paul Chesser at 08:44 AM
I thought it was "Jenjis Khaaaannnn..."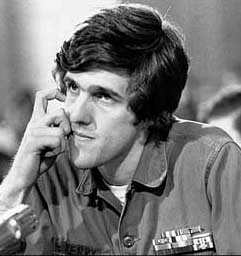 Pre-emptive Exam
Posted by Paul Chesser at 08:38 AM
The graders have started to put together the "global test."
Re: Whoop, Whoop
Posted by John Hood at 08:07 AM
Jeff, you say the tomb of Genghis Khan has been found? But I thought he was alive and well and plotting his schemes of bloody world conquest from the White House!

Need proof? Chaka Khan has performed at both the 2000 and 2004 Republican national conventions.